Intake ventilation for any roof pitch
FasciaVent Revolutionizes Metal and Asphalt Industry!
FasciaVent allows air to enter through the fascia board, under the roof decking and up to the ridge vent or other installed exhaust device.
---
Your gutter can be installed directly onto FasciaVent.
FasciaVent is ideal for roofs that are less than 4/12 pitch.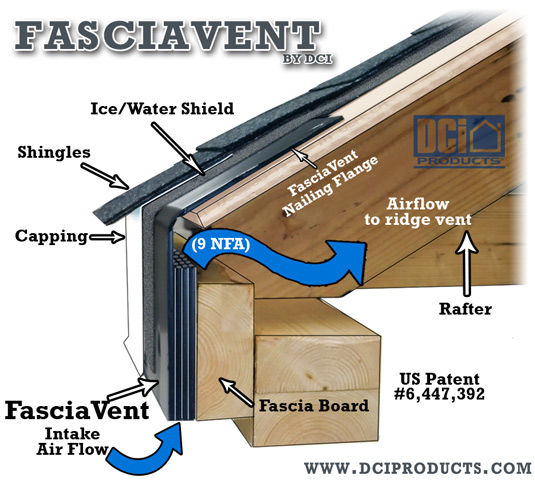 ---
Focusing on the importance of roof intake ventilation and concerned about the growing number of litigation cases against large established roofing companies & manufacturers regarding mold and moisture issues, DCI Products Inc. introduces FasciaVent for the metal & asphalt roofing industry. FasciaVent installed on asphalt or metal roofing allows cooler air to enter through the fascia traveling under the entire roof decking structure and out the preferred ridge vent or other exhaust apparatus.

DCI promised that the company would address the growing metal roofing industry with patented intake ventilation products that would satisfy new and retrofit jobs. FasciaVent reduces the roof top lift up that hinders long rigid metal panel installations, yet is easily installed prior to roof shingle or panel installation. FasciaVent has a NFA rating of 9 square inches per linear foot.